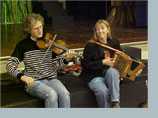 We play traditional folk and dance music on button accordion, fiddle, guitar, banjo, mandolin, bouzouki, and voice. We're especially fond of Ireland, the British Isles, Québec, Brittany, and other cold, damp places.

We play for dances, concerts, and festivals, either as a duo or with other musical friends.

Here are few of the other combinations we're talking about:
With singer Nina Lane and multi-instrumentalist Bryan Owens we play in the band Sprygg. Our music ranges pretty far and wide, from Ireland to Sweden to the Balkans, with a detour or two to Jacques Brel and Yiddish cabaret. And you should hear Nina sing...
With fiddle player Betsy Branch we play for dances as a trio we call The BFD.
Dan plays in a duo with fiddle player Lisa Ornstein. They play mostly music from Québec and Appalachia, as well as a raft of original compositions.
Dan plays in another duo with Massachusetts-based flute and banjo player Mark Roberts, which delves more into Irish traditional music and other tunes from that state of mind known as The Gloup.
Fran plays in the Portland-based contra dance band Full Moon with Gordy Euler, Janet Goulston, and Dave Hamlin.
Dan also plays in the long-running contra dance band Jigsaw with George Penk and Heather Pinney.
Dan also plays with Scottish-style fiddle player Jamie Laval.

Dan plays guitar, fiddle, mandolins big and small, tenor banjo, and sings. He's been part of Pacific Northwest folk music scene for many years, performing at concerts, festivals, and music- and dance camps – as well as the odd pub gig, contradance and ceili. Dan also teaches extensively, does studio session work, and has done music for film and theater.

Dan is devoted to exploring traditional music on the guitar. With a strong classical guitar background (and some progressive rock back in the day), he's a captivating fingerstyle player as well as a dynamic flatpicker and accompanist. Dan's fiddle playing focuses on the dance music of Ireland, Québec Appalachia, and Brittany. His main influences are Irish fiddle players Kevin Burke and Matt Cranitch, as well as Fanch Landreau from Brittany. Dan is also a noted composer of fiddle tunes, many of which surface on recordings and at dances and sessions.



Fran plays button accordion and fiddle. She grew up in Limerick, Ireland, and lived in Luxembourg, Belgium, Holland, and Dublin before moving to the United States. Fran began playing the fiddle in Dublin, learning from Tralee fiddle player Maire O'Keeffe.

Fran picked up the C#/D button accordion while driving from Oregon to Québec a number of years ago – don't worry, she didn't do both at once. Since then she's developed a rhythmic, soulful and direct style of playing. Her repertoire delves into the dance music of Ireland, Québec, France and Brittany, and she's particularly influenced by the playing of Jackie Daly and Sharon Shannon. Fran's box of choice is a Castagnari Dinn III.